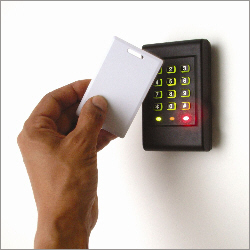 Biometric Access Control System is designed for areas where need for security is crucial. It protects human life, property and information and provides safe and comfortable environment by limiting unnecessary access to essential areas such as office, building, factory, R&D; Center and more.

By deploying RF/Smart Card, Biometric recognition (fingerprint/face) devices and central control units into an access control system, it prevents any possible danger or interference from the outside, which helps to maximize work productivity. For small, medium to large sized businesses, intelligent standalone/network access control systems can be applied in various ways to fit your security needs. Our advanced access control solution provides end to end security in protecting your valuable assets, information and safety in any environment.

We provide best suitable attendance solutions based on the customer requirements with our latest technologies available in RFID, Finger print, Face reader & Iris Biometric attendance and access control solution.
Our Solutions Include :
Biometric Access Control Systems
RFID Card Systems
UHF Readers / Antennas
Hotel/Residential Locks
Turnstile Gates & Magnetic Locks
Time and Attendance Software
Software with over 25 Attendance Reports
Visitor Management System